Maximize your training in our Wahoo Fitness Studio. Whether you're training for a cross-country trip or a sprint triathlon, our studio provides the most realistic, power-accurate, safe training experience right inside our store.
Classes are a great way to obtain a quality workout and track progress. We welcome all levels into the classes and we also offer drop in classes to better serve busy schedules. The goal of the studio is to help you increase your overall bike power while giving you the most realistic riding experience available.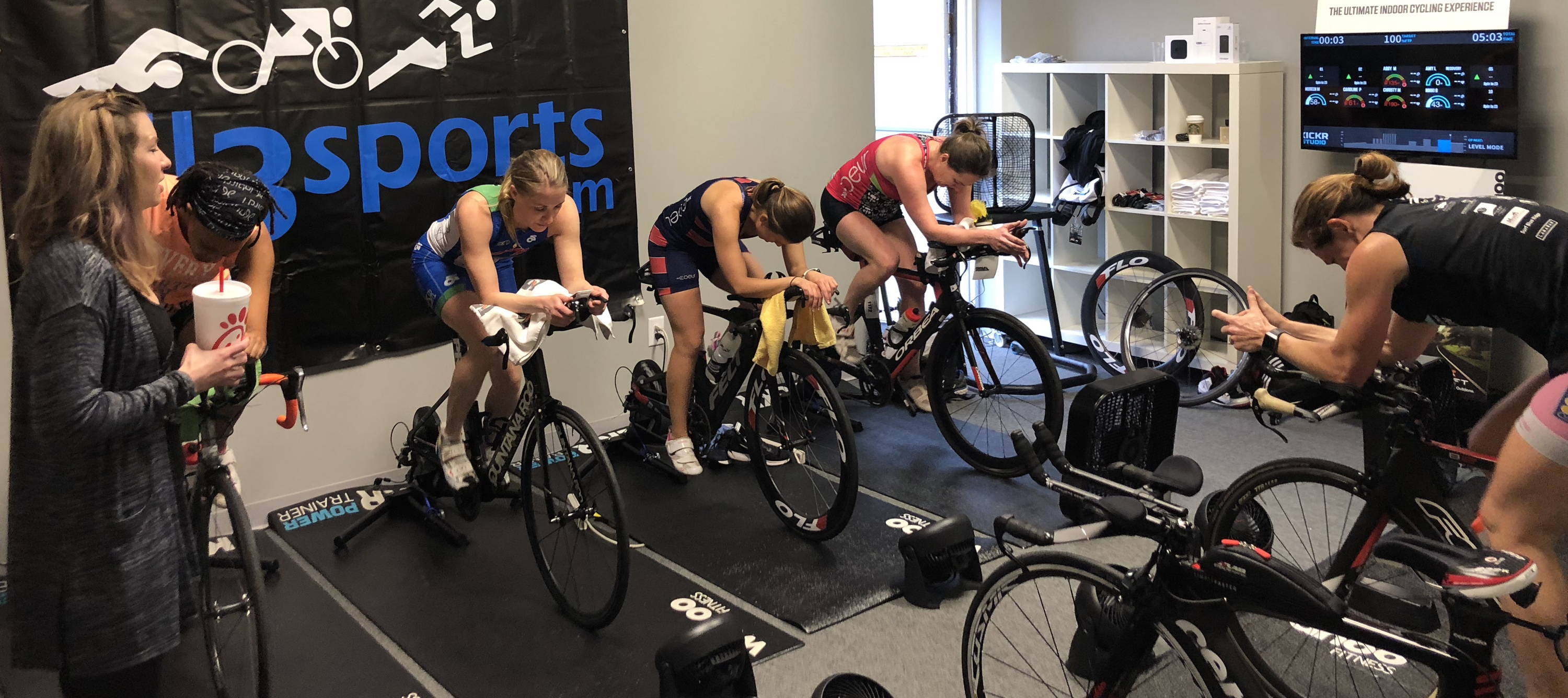 Training with power seems to be the buzz word in cycling/traithlon circles but is it really worth the investment? Here are some of the top reasons that you should train with power.
You can scale your workouts to maximize your fitness gains. With power, each workout has very specific targets. Rather than putting in junk miles or wondering if you're doing the workout correctly, you have a very measurable target with each workout.
Measure improvement. The beauty of a power trainer is it allows you to have an accurate measurement of your improvement on the bike. By having a specific and focused training block, you can see your FTP number improve over time. On the other hand, if you aren't making gains on the bike, you have data to see where some of the problems may lie
Keeps you from overtraining. A big danger for the Type 'A' athlete is overtraining. When a workout doesn't feel too hard, it seems like it wasn't productive but most athletes actually spend too much time in the gray zone of training (too hard for their body to recover adequately for the next workout but not hard enough to be considered a high-intensity workout. A power traner gives you an accurate way to measure what zone you should be training in for that day. By the same token, if you tend to enjoy just going long and slow on your bike, a power trainer will help you break through to that next level of challenge.
The Wahoo Fitness Studio gives you the opportunity to try out training with power in a fun, group environment led by a qualified instructor. You may find that you want to upgrade to a smart trainer or power meter, or learn more about what the rate of percieved exertion (RPE) feels like at different levels of effort and find that you prefer to ride without power meter outside of class. Either way, you'll see measured gains in your fitness when you regularly train in our studio!
Things to Know About the Studio
Schedule
Currently we offer classes at 6:15 on Wednesday and 6:00 on Thursday. Classes are led by an all3sports team member who is also an experienced cyclist. On Thursday's join us for an optional post-ride beer at Pontoon Brewing next door!
What to Bring
Your bike - all of the stations are set up on either a Wahoo KICKR or Wahoo SNAP so you will ride your bike but it will be connected to the computer and controlled through the studio app.
A towel and lots of water.
Arrive 10-15 minutes before class to get all set up and make sure the computer syncs!
FTP (Functional Threshhold Power)
All workouts are based on a percentage of functional threshhold power. If you've never tested or don't know your FTP, we will help you set a starting power. We offer regular FTP testing options to you have an accurate power number and can track your progress.
Workout Results
Your workout results are emailed to you and can be uploaded into a garmin or training peaks account. Wahoo is working to sync their workouts directly with training peaks.
Private Sessions and Group Rides
Do you have a group or club who would like to come in and ride or are you interested in coming in during the day to ride? Arrange a private class or ride with us. Email us at customerservice@all3sports.com for more information!